This week on MIA Radio, we interview Wendy Dolin founder of the MISSD foundation. MISSD stands for Medication-Induced Suicide Prevention and Education Foundation in Memory of Stewart Dolin.
In 2010, Wendy's husband Stewart Dolin was prescribed Paxil (paroxetine), a selective serotonin reuptake inhibitor ("SSRI") for mild situational anxiety. Within days, Stewart's anxiety became worse. He felt restless and had trouble sleeping. On July 15, 2010, just six days after beginning the medication, following a regular lunch with a business associate, Stewart left his office and walked to a nearby train station, despite not being a regular commuter. A registered nurse who was also on the platform later reported seeing Stewart pacing back and forth and looking very agitated. As a train approached, Stewart ended his life.
Founded in 2011, MISSD is a unique non-profit organization dedicated to honoring the memory of Stewart and others by raising awareness and educating the public about the dangers of akathisia. MISSD aims to ensure that people suffering from akathisia's symptoms are accurately diagnosed so that needless deaths are prevented.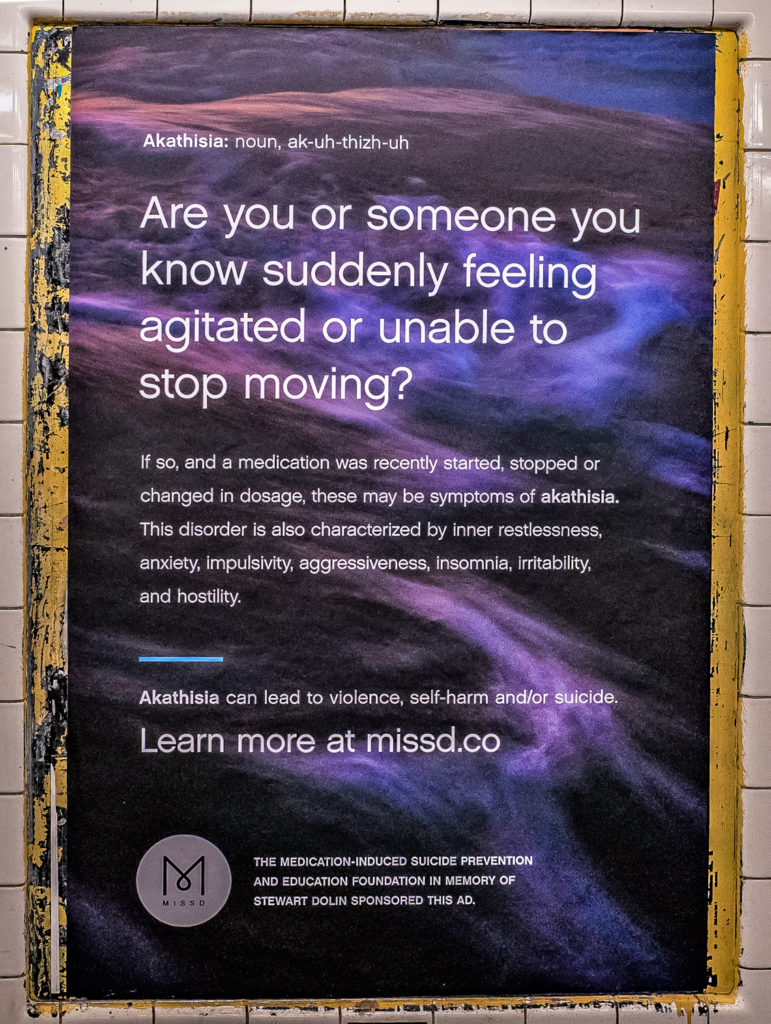 We Discuss:
That, by background, Wendy is a licensed clinical social worker and family therapist practising in Illinois.
How Wendy founded MISSD in 2011, one year after losing her husband, Stewart Dolin, to medication-induced suicide.
That Stewart was a loved husband and father and respected partner in the law firm Reed Smith.
How he went to his doctor complaining of some work-related anxiety and was prescribed the generic version of Paxil (paroxetine).
That tragically within six days of starting Paxil, he unexpectedly and uncharacteristically ended his life.
How the term akathisia was coined in 1901 by a Czech neuropsychiatrist.
How clinical trial data from the pharmaceutical drug trials are often manipulated to hide adverse effects including akathisia, meaning that the incidence is under-reported and the condition under-recognised by patients and doctors.
How because of this lack of awareness, akathisia is often misdiagnosed as anxiety, leading to incorrect treatment such as the prescribing of additional psychotropic drugs.
The fact that Government regulators and the mainstream media do not seem to want to discuss medication-induced harm including akathisia.
That the MISSD website includes testimonials from people who have experienced akathisia and that it is important to know that it can be experienced as purely internal (subjective) symptoms such as confusion or as external (objective) symptoms such as pacing, rocking back and forth or an inability to sit still.
That Doctor Roger Lane, a scientist who worked for Pfizer writing in the Journal of Psychopharmacology in 1998 said "akathisia can be so severe that death can be a welcome result"
How akathisia can be so unbearable that it can lead to violence or self-harm and suicide.
That in addition to SSRI 'antidepressant' and 'antipsychotic' drugs, also implicated in leading to akathisia are drugs for acne such as Roaccutane, pre-surgery sedatives including benzodiazepines and anti-malarial drugs such as Mefloquine.
How in Canada there is a class action lawsuit raised by military veterans against the Canadian Government because of the number of suicides linked to anti-malarial agents.
That although MISSD is a non-profit organization that cannot give medical advice, readers can find a handout on the MISSD website that may help explain akathisia to treating physicians.
MISSD's bold public initiative to put adverts in subway stations explaining akathisia.
Wendy's participation in the UK Royal College of Psychiatrists International Congress in July 2019, where she discussed akathisia and the work of MISSD.
That MISSD has a podcast which shares experiences of akathisia.
Wendy points out that MISSD is not anti-drug, it is about awareness, transparency, accuracy in pharmaceutical labelling and the prevention of iatrogenic harm.
Wendy would like to thank the bloggers, donors and advocates who work to publicize adverse drug effects and support MISSD's work.
Relevant Links:
Medication-Induced Suicide Prevention and Education Foundation in Memory of Stewart Dolin
MISSD Free one-hour Continuing Ed Course
Akathisia Stories – MISSD Podcast (Apple Podcasts, Spotify)
NYC Subway Ads Take Akathisia Out of the Darkness
Wendy Dolin Takes on GlaxoSmithKline And Wins — For Now at Least
Stewart Dolin's Widow Loses $3 Million Verdict for Paxil Suicide on Appeal