As the daughter of an artist, I grew up understanding that art heals, that creative expression is one of the most profound ways human beings have coped with collective and individual hardships throughout our history. Its origins reach back many thousands of years. As a kid, I would pore over books about cave paintings and shaman artists. Seeing myself in those caves, I understood that the practice of art-making represented something at the very core of how humans make sense of their world, grieve, worship, and create change within their communities.
To me, in modern times, art's most important role is this: to help lift the forces of psychological oppression from one's heart and mind. Within my life as a psychiatric survivor, art has served me in this way. Its power to heal trauma was the strength underlying my ability to shake the psychiatric industry from my life. Through art-making, I could let my mind exist as it was and honor it without the label of disease. I pressed my art and writing into the world, put aside what I was told was "crazy", and instead saw my imagination, my trauma, my grief, and my creativity as something profoundly beautiful, and even more importantly, something worthy of having a voice. Art was my path to empowerment.
Artists are often indifferent to norms those in power attempt to coerce us to accept and internalize. These norms are so often in opposition to our authentic selves. Sometimes artists are forceful in throwing off ideas and strategies of control, as we see in times of cultural and political revolution. Artists can serve as society's radical conscience, holding up a mirror in which we as a people can see ourselves and question our collective choices. My art is how I question the world, the one external to me and the one internal to me. It is how I explore and push the boundaries of my perceptions.
Art moves us, individually and collectively. It moves ideas and truths inside us out into the world. It moves feelings within us and transforms them. I truly believe it moves the energy of trauma in our body that has become frozen or stuck. Suffering itself can be moved toward healing within the practice of creating. Art is a vehicle through which our inner world can become an imaginative dialogue, rich with possibility and new ideas, new feelings and growth. It can become a dialogue external to us as well, as our courage in expression moves those that witness it to explore and express themselves.
Art is also love, a kind of gift. In a support group for those in psychiatric drug withdrawal, I recently said that despite all the horrors psychiatric survivors endure, we are positioned to love ourselves so deeply and radically, if just in a reactionary way against the forces encouraging us to constantly judge and restrain ourselves. It is this self-love that is the core of my creating. It is a constant process of seeing, loving, and offering. It is a constant challenge to love myself more deeply and to accept every bit of who I am, how I see, what I feel.
#Transform Your Trauma
To me, the power of art to transform our lives is undeniable. To me, art is a societal force that moves us forward, just as important as technology and science.
I've been using the hashtag #TransformYourTrauma on Instagram since I started sharing my artwork early last year. This phrase is the essence of what art has been for me throughout my life. The act of creating art is a process of transformation. To me, it is not about the product, but the process. It doesn't have to be good, or skillful, or profound. The key is in the doing, the act of making. When you embrace the possibilities of your imagination, when you free yourself to express without censorship, without self-judgment or the judgment of others, you nurture the ground of emotional healing. The practice of art-making can be a safe container for this profound exploration.
I truly believe art-making is one way we will emerge a better people, and I invite you to share your artwork in the spirit of art's healing potential with the hashtag #TransformYourTruama on social media, to be included in a stream of artwork.
The Exhibit
The pandemic lockdown last year afforded me a precious gift of time to explore my creative spirit, and that, in turn, gave me a powerful way to cope with the constant fear and upheaval surrounding me. I set up a drafting table and drew most days for hours on end – responding to how the pandemic had impacted my life, the sensations of psychiatric drug withdrawal, my experience as a survivor of psychiatry, the financial insecurity, isolation, and political tension surrounding me. I reconnected with myself in so many ways and it was, for me, so healing.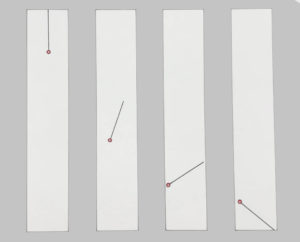 My lived experiences with psychiatry and mental distress, which are so common among artists, became the fuel for engaging with the movement to reform psychiatry and became a new purpose for my art as well. After writing a few pieces for Mad in America about my experiences, I began working for them managing their social media. My career before COVID was in doing this for arts organizations. It was always my mission throughout my adult life to serve artists in whatever way I could.
I quickly found that the Mad in America community strongly valued the arts as well. After conversations with Robert Whitaker and others at Mad in America about how they saw the role of art in recovery, I knew there was a valuable opportunity in creating an online art exhibit. Speaking with Staff Reporter Amy Biancolli and reading her series of articles on the power of music galvanized me further to offer a call for art to our community of those with lived experience of mental distress and psychiatry.
It is an exciting opportunity to offer this exhibit and the open call to artists to share how they have engaged with art over the past year, how perhaps it has been healing for them in the face of this global pandemic. I share "Creativity and COVID: Art-Making During the Pandemic" in the spirit of connection and community during a time of both collective suffering and hope for healing. I hope to forward the understanding of creative expression as one profound way to promote emotional healing and recovery, whether it be from individual hardships, those of a nation, or even those of the entire globe.
Please click here to visit this online exhibition.
***
Mad in America hosts blogs by a diverse group of writers. These posts are designed to serve as a public forum for a discussion—broadly speaking—of psychiatry and its treatments. The opinions expressed are the writers' own.
***
Mad in America has made some changes to the commenting process. You no longer need to login or create an account on our site to comment. The only information needed is your name, email and comment text. Comments made with an account prior to this change will remain visible on the site.