Natalie Petrillo sees it firsthand: the power of music in helping children. As a graduate student in speech pathology, she works alongside music therapists with kids who've been diagnosed with autism.
"So I'm exposed to music therapy all the time—and it's amazing," she says. "There's this one student I have, he doesn't speak. But he can beat-box. And he can beat-box very well." Through beat-boxing, in fact, he's learned certain speech sounds. 
It was Saturday. Petrillo was sitting in the House of Yes, a seriously hip Brooklyn venue hosting an all-day dance party for Sound Mind Live, an annual fest showcasing the intersection of music and mental health. Created by musician Chris Bullard—who recently spoke with me and my colleague Karin Jervert for a Mad in America podcast—the event featured panel discussions and immersive, meditative "Sound Sessions" to complement the ongoing music.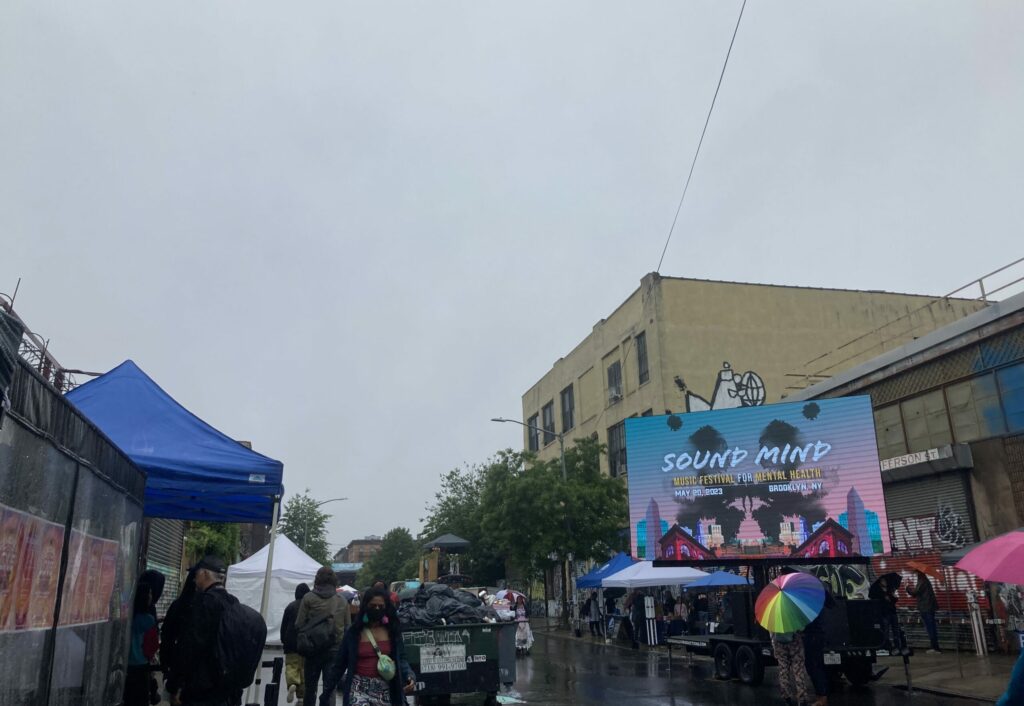 Inside the club was a thunder of nonstop, pulsing dance tracks. Outside was a deluge of nonstop, pounding rain. Attendees huddled under umbrellas as they moseyed from tent to tent, picking up free beverages and leaflets, and gathered for the quartet of musical acts that played over the course of the day on Wyckoff Avenue. 
Sitting beside Petrillo on Saturday was Jake Watkins, whose own take on music has evolved since childhood. Growing up in conservative churches, he said, he had a fixed idea about what an individual piece of music can mean. 
"You'd feel chills go through your body, and you'd think you'd be connecting with whatever message that they're trying to portray—when, really, that's just a universal experience that a lot of people go through." 
Chills are a common response to music (research has explored this and other aspects of music's powerful impact), yielding a sense of connection beyond the individual artist and message.  "It's up to the listener to kind of bring it in," he said, "and make it meaningful to themselves…It kind of opens your mind"—to both someone else's interpretation and your own. "When you can accept that music is a universal art, you can open your mind to universal interpretations."
Overwhelmingly, the folks in attendance at Sound Mind were younger adults, perhaps drawn by the musical acts and free admission—and, perhaps, the emphasis on mental health. For Petrillo and Watkins, it was all three. "We've both been having some things going on. . . We live in high-stress environments," he said. For them and their peers, Petrillo added, "Music is the outlet."
My conversations with them—and others at the event—underscored both the significance of music in helping alleviate stress and the generational shift toward openness in discussing mental and emotional challenges and the quest for wellbeing. To be sure, some of that openness is linked to the prevailing diagnostic model of mental health, which reaches far and wide in the current culture and includes social-media influencers.
But at the same time, there is extraordinary power in being open about our struggles. This is true of every challenge in life, in every context and corner of society, and has been since the dawn of history. Poets, philosophers, writers, artists, filmmakers, and, yes, musicians, have long expressed themselves in sound and word and image, finding meaning in the chaos and embodying—showing us—what it means to be alive. And not in any well-versus-unwell  sense, but in the most inclusive and illuminating way possible. As the rapper KAMAUU articulated at one of the Sound Mind panels, a discussion of mental health in communities of color: "I just am." 
This is how we connect: By being authentic in who we are. By learning about ourselves, understanding ourselves, and being real. By telling our stories. Each story, whether sung or spoken or conveyed some other way, can help someone else feel less alone. For many, this is the gift of the Mad in the Family community and, more broadly, Mad in America, which puts stories of lived experience front and center in the dialogue around mental health. Authenticity is empowerment. 
Lived experience was, in fact, the topic of Sound Mind's closing panel, which included Bullard, singer-songwriter Langhorne Slim, and MIA's arts editor, Karin Jervert. The event was in its literal final minutes when a distressed mother, in tears over the recent psychotic break and subsequent incarceration of her 18-year-old son, appealed to panel members for help.
What could she say to him to encourage him, given all that had happened? What could they share that she could pass on to her son? Speaking from their lived experience, the panelists gave advice — and more than that, hope. He's not broken, Jervert said. It's not the end of his story, she added, and Bullard agreed. He's not anything but a human being on a journey, and he's not alone. He'll find a way. 
Hearing their words, filled with love and empathy and their own truths, reminded me of that little boy Petrillo described—the beat-boxer. Though he didn't have the words to tell his story, he figured out a way to tell it anyway. "He's finding his voice—yes. That's a perfect way to describe it," she said. 
The story of that boy touched me the way music touched Watkins, and still does. 
"I just got chills,"  I told them.
"There you go," he said, smiling. "It's come full circle."
Everyone is on a journey, after all. Everyone is finding their way. That's the message of music, and the message of life.
—Amy Biancolli, Family Editor
***
Mad in America hosts blogs by a diverse group of writers. These posts are designed to serve as a public forum for a discussion—broadly speaking—of psychiatry and its treatments. The opinions expressed are the writers' own.
***
Mad in America has made some changes to the commenting process. You no longer need to login or create an account on our site to comment. The only information needed is your name, email and comment text. Comments made with an account prior to this change will remain visible on the site.