I wonder how I'll celebrate it this year. I haven't decided yet. My 25th birthday. No, not my biological birthday; what I call my spiritual birthday.
Since 1998, I have honored March 28 as my spiritual birthday. It is the anniversary of the night in 1998 when I collapsed to my knees, sobbing, while alone in a motel room in Banff, Alberta, Canada. I was convinced that if I got on a plane the next day to return to western Washington, I would be killed in a plane crash. That was the crisis point of a severe stress/mental breakdown that was initiated just seven days before. That night was also when I felt the souls of two friends who died at a young age press up against my back and hold me as I panicked in that terror. My friend Nikos died in a car accident in 1986. My friend Kerin died in December, 1997, just a few months before my visit to Banff.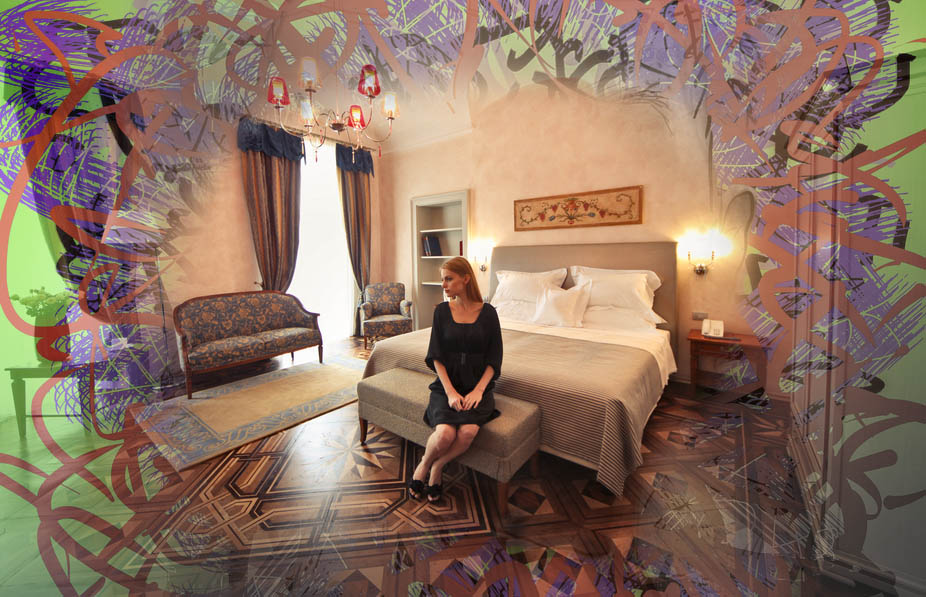 I didn't want to die. With the release of energy over the previous week, my life made sense in a very strange way. With Nikos and Kerin holding me, I "heard" Nikos coaching me, Come on, Penni. Come on. You can get out of this, but think! THINK! You have a good brain; you can get out of this! How can you get out of this?
I remember feeling something click in the base of my brain at the back of my neck as I realized, Don't get on the plane. You are safe here. Don't get on the plane. Then I couldn't feel them anymore. Whatever veil opened for those few moments was again closed. I decided to stay in Banff a few more days to get my head together a bit more before returning to the U.S. I flew back nine days later—with no fear of flying.
The stress had built up over the previous 15 years. I was 31 years old at the time, so that was almost half my life. Since high school, I had witnessed significant pain in my family resulting from contentious divorces and power dynamics. My middle brother, Jeff, left Montana in early 1990 and dropped contact with all of his family. We were pretty sure that he was homeless in the Las Vegas area. I carried significant grief for him and also his children, whom I loved dearly. I don't remember the last time I saw him. In March, 1998, I didn't know if he was still alive.
That wasn't the only stress that I carried. In addition, my work environment wasn't healthy. While I was paid relatively well, I didn't have the tools and resources needed to do my job successfully. I was naïve enough to keep banging my head against the wall to try to implement a variability reduction program as it related to a manufacturing environment. I guess that is how large corporations work: minimize resources wherever possible, even if it means that the program that the managers and executives say they want can't really be implemented.
I knew that I didn't like living in a metropolitan area. There were just too many people for me. Since I grew up in sparsely-populated Montana, I was used to having more elbow room than the Seattle-Tacoma-Everett area provided. I loved the nature and scenery of the Pacific Northwest: Puget Sound, the Cascade and Olympic mountains, and the Pacific Ocean. I struggled with the overwhelm of the metro area. I made the most of it, though it never really felt like "home."
What drew me to the Seattle area was synchronized swimming, my passion while growing up. I even competed nationally for four years as a teenager. In 1993, I began coaching regularly as the novice coach for a local swim team. In time, the dynamics of the swim team degraded as the head coach became more and more mentally and verbally abusive to the older girls on the team. A week before my scheduled trip to Banff, the parents of the "A-squad" pulled their daughters from a major swim meet where teams from all around the western U.S. came to participate.
It was the dynamics of the swim team that "broke" me. Two days after the girls were pulled from the meet, the parents convened a meeting to determine how to proceed. I was invited to attend as the novice coach with 25 families represented. I was also the only adult who had experience as a synchronized swimmer. When the four girls entered the living room to describe their experiences at the meet, before they verbally said anything, their body language screamed at me. I can still envision it. I could almost see a distortion in the air as a wave of energy crossed the room and hit me full force.
When that shock wave hit me, I realized: These kids have been abused! That was the first time that word—abuse—came into play.
I looked around the room at the parents, many of whom I had known for several years. We were all part of a system of abuse. We, the adults, failed to recognize how things had grown to this point. We even inadvertently encouraged that growth. Individually and privately, some parents had expressed concern for how the head coach handled practice and how she seemed disorganized or would berate the girls. In time, her behavior grew beyond critique of the girls' performance. Her behavior became more judgmental and even insulting. Each individual event was excused in some way.
Parents, swimmers, and even I often found ourselves walking on eggshells around her. That, in hindsight, should have been a huge warning sign. There were lots of signs that were more easily recognized in hindsight, not just with the swim team, but with work and my life in general. Conditioning makes it difficult to notice how thresholds can be crossed into unhealthy dynamics.
When I looked back at my overall experiences of 1998, I developed an analogy. Over the years, different people told me that I was under a lot of stress, including the medical doctor I saw in 1996. I thought I was letting all the stress, dysfunction, and accumulating grief roll off my back. However, in a sense, it was as though I was stuffing it all into a glass ball, resulting in a toxic mess. That stuffed energy included the unending grief related to my brother, the displeasure at work even though I loved what I did, the overwhelm of where I lived, and even the passion for wanting to help young girls enjoy a sport that I loved so much.
The wave of energy I felt when I realized that the girls had been abused was the ka-chink, a significant whack, that hit that glass ball hard enough to break it open. All that pent up energy released and exploded.
On March 30 or 31, while still in Banff, I was struggling significantly with the process of events that unfolded over the previous week and a half. I found myself asking, What is this? This was on a completely different scale from anything I had experienced previously.
This was no illness. And I knew my biochemistry was not the primary issue. Though exceptionally intense, I also knew this wasn't a chronic condition. This was an accumulation of stress and toxicity that was in the process of some kind of release, an explosion.
This was a breakdown. Some might call it a nervous breakdown, a breakdown of the nervous system. Though I agreed with that, I chose to call it a severe stress breakdown which better described the causality of the experience. Breaking down due to too much stress. One counselor in 1999 preferred to call it a "breakout" or a "breakthrough." This was an "awakening" as to how conditioned I had become to dysfunctional and even toxic systems around me. I recognized how intricately non-random my life actually was. There were repeating patterns of behavior that I could see when examined in relation to prolonged stress. I found that non-randomness to be of interest, since I had earned a master's degree in statistics 10 years earlier.
A few days after the crisis, while still in Banff, I called a friend who had been through a similar experience. He used the term "ego collapse." I found that description quite helpful. In addition to the explosion of the contents stuffed into that glass ball, there was also an implosion. It certainly seemed like a collapse of the ego-mind, which compromised the filter between the conscious and subconscious minds. Months later, he also described such experiences as "hatching from the ego" as in hatching and emerging from the structures of beliefs and experiences that we build around us in order to function in this world. When those structures are under too much strain, they can fragment and splinter and collapse, resulting in considerable pain. At least that seemed like a reasonable description of what I went through.
Often, the process of breakdown is ultimately a process of "breakout" and hopefully of "breakthrough" to a healthier state. Though I didn't realize it at the time, what I experienced in Banff was a process of transformation rather than an illness or disorder. Like a snake, a person can "shed their ego skin" of the toxicity and stress that has been buried in the subconscious or deeper levels of the psyche. Other natural, transformational processes include the chick that hatches and leaves the confining eggshell behind and the butterfly that emerges from the confining cocoon and is transformed into a different stage of its life.
Unfortunately, too often, for people going through such a transformative process, other people, including members of the mental health system, attempt to shove, manipulate, coerce, and even abuse the person back into the very role that broke them open to begin with. You don't shove a chick back into the egg. You don't shove the butterfly into the cocoon. And there is certainly no way for the butterfly to go back to being a caterpillar.
Similarly, when a baby is being born, you don't try to shove it back into the womb. So, yes, I recognize March 28 is my spiritual birthday. There was no going back to who I was before, nor would I want to.
Unfortunately, like too many others, I ended up traumatized worse by the mental health system than by the breakout/birthing process from that shattered ego structure. While in Banff, two days after the crisis, I was cut off twice by two mental health professionals who wouldn't stay on the phone with me to help me through what was still a very tumultuous time, even an emergency. Upon return to Washington, I received misinformation about my medical leave benefits and also received two sets of paperwork filled out incorrectly with regard to starting a medical leave. The first PhD psychotherapist I saw two days after I returned to the U.S. wouldn't even diagnose me.
He agreed that I had been under a lot of stress, and he seemed to agree that I had some kind of breakdown. Yet he wouldn't diagnose me. I had no idea what the Diagnostic and Statistical Manual of Mental Disorders (DSM) was. I also didn't know that temporary conditions such as stress or nervous breakdowns were not included as a diagnostic category. Without a psychiatric diagnosis, I couldn't get on a medical leave at my employer. The next four months of trying to satisfy my corporate employer to get on a medical leave were torturous, which significantly worsened my condition and delayed my healing and recovery.
I was exceptionally lucky, though. Somehow I made it through to a place of healing and recovery. I even ended up moving back to Montana and found a professional job. Prior to the breakout, I believed that the best I could do economically and professionally would be to retire in Montana.
Over the years, other helpful terms and descriptions came my way with regard to my experiences.
Several months after that crisis point in Banff, my friend who introduced the concept of "ego collapse" also used the term "spiritual awakening."
It wouldn't be until 2020 that I learned of the term "spiritual emergency" coined by psychiatrist Stanislav Grof and his wife, Christina, in the 1980s.
The Grofs also introduced the concept of "extreme states of consciousness" and "non-ordinary states of consciousness." With my background in statistics, to me, those extreme states represent that which is not normal, beyond normality. That is, those states represent the tails of a distribution, even an outlier in a sense. I certainly experienced something beyond the "normal" levels of consciousness.
In December, 2017, I finally understood how moral injury played into my experience. I watched a documentary that mentioned moral injury, a term that is also not in the DSM. I had heard of moral injury before, though I didn't relate it to my own experiences. I realized that the ka-chink of the glass ball, that wave of energy that hit me at the parents' meeting, was a moral injury. As a coach, I failed to protect the girls from the dysfunction and toxicity that was building. Granted, I wasn't trained in how to recognize that nor who to turn to for help. That didn't matter; the inaction from me and the other adults failed the girls on the team.
One additional term that helped was one I made up myself. A couple days after the crisis, I was in the motel room in Banff trying to understand what I was dealing with. I asked myself, Was this bipolar?" I picked up a two-dollar Canadian coin and noticed it had a polar bear on one side of it. I thought, No, I'm not bipolar. This coin is bipolar. Magnets are bipolar. The world is bipolar. I am nothing less than "tripolar"—mind, body, AND soul. Mine was an exceptionally spiritual experience. Later, as I tried to navigate the mental health system, I wouldn't let anyone dismiss that spiritual element. I still don't. My experience was a "tripolar rebalancing."
Even in Banff, I knew I would probably get diagnosed as having "bipolar disorder," which is ultimately what happened in May. I knew that was wrong. What I didn't know was that too often when a person is going through a mental crisis, they are "diagnosed" primarily based on behavior and speech, without proper assessment of the environment, personal history, trauma, and social dynamics they live in.
When I started looking at things from the point of manipulative, even abusive, systems, my life—and suffering—made much more sense. I recognized that as a "people pleaser," I became toxically enabling and/or chronically co-dependent to the dysfunction around me. That breakdown/moral injury was my "wake up" call to just how conditioned I had become.
I learned quite a bit through my journey; much more than I could have ever imagined. I've even quipped that it was very much a "crash course." Ultimately, I am thankful for my experiences. They have made me so much stronger than I ever could have known or believed.
So, yes, I'll do something on March 28 to honor my spiritual birthday. Twenty-five years. It was quite the journey.
***
Mad in America hosts blogs by a diverse group of writers. These posts are designed to serve as a public forum for a discussion—broadly speaking—of psychiatry and its treatments. The opinions expressed are the writers' own.
***
Mad in America has made some changes to the commenting process. You no longer need to login or create an account on our site to comment. The only information needed is your name, email and comment text. Comments made with an account prior to this change will remain visible on the site.